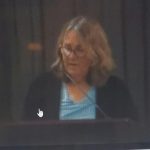 Sue Woltanksi, a mom of public school kids and a Monroe County School Board member who blogs at Accountabaloney is one fierce colleague and public education advocate. She testified in the Senate Appropriates Committee against SB 48 last week on what would be the final Senate committee stop on the third day of the 2021 session, fast tracking it onto the Senate floor for a vote! SB 48 makes no secret that its intent is to use parents armed with debit cards full of their child's
Many thanks to Sue, who is stands among the few citizen voices present to testify in Tallahassee for Florida's public school children. Her testimony was quoted in this news report and can be seen on the Florida Channel at 56:34.
Read Sue's complete testimony in opposition to SB 48: 
"I am Sue Woltanski.  I am a Monroe County School Board Member but I want to be clear – today I am speaking as an individual, as a mother of two public school children, a taxpayer and an advocate for public schools.
I have been dismayed by the mischaracterization of this bill as it has moved through committees.  This is NOT simply a consolidation of voucher programs and a streamlining of the application process. This bill is a radical transformation of our voucher programs, transforming them all into Education Savings Accounts or ESAs.  ESA are not tuition vouchers but rather are publicly funded accounts that recipients can spend on a variety of items in an attempt to piece together the components of their child's education. Current ESA recipients can purchase pre-approved Apple Watches, TVs and Gaming Consoles. Of course, families can choose to purchase tuition if their child is admitted to a private school or homeschool curriculum, but it is not required. There are no academic standards, no required coursework and no graduation requirements. In fact, LINE 2255, eliminates the need for any standardized assessment of academic performance. There will be no academic oversight or accountability.
Currently Step Up manages the nation's largest ESA e-commerce site, serving approximately 20,000 Gardiner and Reading Scholarship recipients. If this bill passes, their online marketplace will need to ramp up to serve over 200,000 recipients, by mid August. In anticipation, they have partnered with experts in Artificial Intelligence and are developing an e-commerce marketplace where data collection and black box algorithms will be used to guide participant choices, much like Amazon suggests purchases. Because Step Up is a private company, public records laws will not apply and, although they will have scheduled operational audits designed to assure that purchases conform to statute, there is no plan to assure such purchases are successfully educating children. The current minimal oversight of participating private schools will be irrelevant in a program where school attendance is not required.
I strongly urge you to reconsider this rapid and radical transformation of Florida's voucher programs. It is devoid of transparency and accountability. Our children and our taxpayers deserve better."