See the grades Rep. Manny Diaz, District 103, earned from Fund Education Now. 
by Dan Sweeney | October 21, 2016 | Sun Sentinel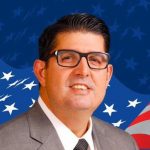 State Rep. Manny Diaz, R-Hialeah, has worked hard to loosen rules for charter schools in his capacity as chairman of the House Choice and Innovation Subcommittee.
In his capacity as Chief Operating Officer of Doral College, Diaz has benefited personally to the tune of hundreds of thousands of dollars as charter schools owned by the for-profit company Academica pay his private, unaccredited college — also Academica-affiliated — for college courses that are not transferable to any other school.
A network of Academica charter schools in Miami-Dade County has paid Doral College about $2 million since its establishment in 2011, sending their students to take dual-enrollment courses at the college.
Diaz, who collects a six-figure salary, has championed legislation expanding the reach of charter schools in Florida since his first election in 2012. His District 103 includes parts of Miramar in Broward County, and parts of Hialeah, Miami Lakes, Miami Shores and Medley in Miami-Dade County.
He did not respond to a request for an interview.
But his opponent in this November's election, Ivette Gonzalez Petkovich, has made Diaz's dual role a central theme in her campaign. The race is considered among the most important to win by the Democratic Party and was one of 13 state legislative races in which President Barack Obama made an official endorsement on Friday.
Gonzalez Petkovich has made a habit of comparing Doral College to Trump University, the series of real-estate seminars under the Donald Trump brand that are the subject of lawsuits in New York and California.
"Doral College is taking public money to offer a service that is useless," she said. "I'm not anti-charter school, but let's do this in a way that's fair and benefits everybody instead of this farce. A politican shouldn't be making money off our kids and taxpayers."
Doral College is on the campus of Doral Academy Charter High School, which was initially the only feeder school to the college. But last year, four schools, all managed by Academica, sent students there. This year, it's up to a dozen and enrollment has grown from 146 in the 2013-2014 school year to 862 this year.
The college is unique nationwide, according to Adam Lowe, the executive director of the National Alliance of Concurrent Enrollment Partnerships.
"Early college high schools are a blending of the college and high school experience," Lowe said. "About a third of those exist on a high school campus rather than on a college campus. But those sites are branch campuses of an established college or university. So you're not establishing the college yourself, you're partnering with a university whose courses you're delivering."
Lowe could think of only one example nationwide in which a college catered solely to high school students, Simon's Rock in Massachusetts. That school is affiliated with Bard College, ranked as the 49th best liberal arts college in the country in the latest "U.S. News and World Report" rankings.
"It is highly unusual and it would be something that I would consider should be proceeded with extreme caution since you're dealing with a nonaccredited college that services solely high school students," Lowe said. "It's sort of a backward attempt at a college."
Charter schools are privately owned but funded with taxpayer dollars. The schools run by Academica, Florida's oldest charter school management company, use public funds to pay Doral College to provide unaccredited college coursework. The largest contributor is Doral Academy itself, which sent $712,000 to Doral College in 2014-15, financial records show.
Since 2011, Doral Academy has given more than $1.8 million to Doral College, far more than any other school, and the amount spent has grown each year.
Under Florida House rules, his employment by a charter school company while also pushing for laws beneficial to charter schools is not a conflict of interest. Under the rules, a conflict only arises when a law specifically benefits a single company rather than an entire industry.
Diaz-sponsored legislation has certainly benefitted the industry. In 2014, he sponsored a bill that allowed charter schools to continue operating even while being investigated or going through administrative hearings and lowered requirements on charter school applications. That bill passed after being inserted into a larger education bill.
Other, more radical innovations have not had as much success.
In 2015, he sponsored a bill that would have allowed high-achieving schools to hire teachers with no teaching certification. This year, he proposed a state constitutional amendment that would have taken control of charter schools away from county school districts and put them under a new state charter school authority, effectively placing supervision of Doral College under the state government that he helps run.
Read full article here.
Check out the grades Rep. Manny Diaz, District 103, has earned from Fund Education Now.
  Like what we do?  Help support this work.