Your voices are making a difference!  Keep writing, calling & Tweeting!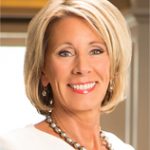 Betsy DeVos, U.S. Ed Secretary nominee was barely voted out of the H.E.L.P. Committee 12-11 after Chair Lamar Alexander bent the rules, silenced debate, and forced the committee to vote twice on Tuesday (1.31.17) to secure a favorable outcome for DeVos.
It was an empty victory for Chair Alexander as GOP Sens. Susan Collins (Maine) and Lisa Murkowski declared the next day (2.1.17) on the on the Senate floor that they would oppose Betsy DeVos.
The full Senate vote on Betsy DeVos has been pushed back to Tuesday, February 7th! 
Conservative numbers reveal that you've contacted H.E.L.P. Committee members more than a million times!
Do not give up now!  We need two more GOP senators to stop Betsy DeVos from becoming the next U.S. Secretary of Education.
Here's a list of the senators who are open to voting no on DeVos. Include political journalists with your tweets! Contact them every day. Use this number to call your two Senators daily. Tell them you're opposed to Betsy DeVos. Call (202) 225-3121.
Please continue to use your voice. All our children have is us.