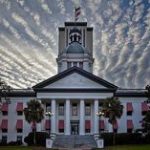 The 2019 Florida Legislature begins March 5, 2019. Gov. DeSantis Proposed Budget Implementing Bill here. Important: Here is where the "Equal Opportunity Voucher" is first mentioned, it is later called the "Family Empowerment Scholarship/Voucher." This voucher  is radical because the Governor seeks to fund it through the Florida Education Finance Program (FEFP) through our property taxes instead of  a diverted revenue scheme (Corporate Tax Credit) or alternative tax route (Automotive Sales – Hope/Bully voucher). This is a significant step toward Education Savings Accounts otherwise known as Universal Vouchers, which were defeated as unconstitutional in the Bush v. Holmes suit. Note: Opportunity Zones will significantly expand Schools of Hope range for development within districts.
Potential Train Bill
SPB 7070 for Consideration by Education. K-12 Education: Deleting the authorization for a traditional public school to receive funds from the Schools of Hope Program; establishing the Family Empowerment Scholarship Program; requiring school districts, upon the request of the department, to provide statewide assessments and related materials to certain private schools; requiring that program funds for students entering a Department of Juvenile Justice commitment program be transferred from the school district in which the student last attended school before commitment, etc. Note: Contains most of the "Senate Priorities." Read bill here.
On Committee Agenda – Education, 3.6.19, 10:30A
Family Empowerment Scholarship
Recruitment, Retention, and Recognition Bonuses for Teachers and Principals
Remove Barriers to the Teacher Certification Process
Reduce Regulations that Impede School Construction and Facility Improvements
Enhance Support for Community Wrap-Around Services
Voucher Expansion
SPB 7070 TRAIN: Family Empowerment Scholarship – Senate Priorities Press Conference Joined by families whose students are benefitting from school choice options available through the Florida Tax Credit (FTC) Scholarship, Senators announced plans to file legislation creating a new scholarship program, the Family Empowerment Scholarship, designed to help our low income families attend an eligible private school of choice and reduce the FTC Scholarship waitlist. The Family Empowerment Scholarship will be available to low income families (up to 260 percent of the federal poverty level), and will require that the student have previously attended a traditional public school or be eligible to enroll in kindergarten. The scholarship will be funded through the Florida Education Finance Program (FEFP) at 95 percent of the district average cost per student and capped at 15,000 students statewide, with the ability to grow as the overall public school student population grows.
HB 9197 Altman – Public dollars to pay for Voucher School Safety Provides an appropriation of $4 million annually to Step Up for Students to provide security for Accredited Nonpublic Schools. Requested by Florida Conference of Catholic Bishops
SB 1410 Hope/Bully Voucher Expansion: Takes schools out of the decision making whether to provide scholarship information to students. Has parents whose children were subjected to an incident listed in the law go directly to a scholarship funding organization for an application. The family would simply have to report the incident. No verification is requested. "As of this week, scholarship funding organization Step Up For Students reports that 212 families had completed applications for the "Hope" scholarship, with 126 being awarded. That's not as large as lawmakers anticipated: They noted during their discussions on the measure that thousands of children could be eligible, based on school district incident reports." Read about drawbacks to not requiring verification here.
Charter Expansion
SB 1470 Diaz Charter Schools – "Camel's nose under the tent" to establish state charter school authorizer, removing district power. Revising requirements for the annual reports that charter school sponsors are required to submit to the Department of Education; requiring the Charter School Appeal Commission, which is renamed the Charter School Commission, to recommend denial of a charter school application if the school does not propose a certain reading curriculum; specifying the entities from which the commission may receive and consider applications; requiring the commission to submit recommendations for approval of charter school applications to the state board, etc.
SB 1028 Public dollars to fund charters
Pre-emption/loss of local control
CS/HB 3 Policy of Preemption – General Bill by Business & Professions Subcommittee and Grant, M. –Prohibits local governments from imposing or adopting new regulations on businesses & business entities; specifies certain regulations expire & may only be re-adopted after meeting specified criteria; preempts regulation & licensing of professions & occupations to state; prohibits local governments from requiring certain specialty contractors to obtain license; specifies job scopes for which local jurisdiction may not require license. Read more here.
.
HJR 229— Joint Resolution by Sabatini and Fine (co-sponsors) Fischer, Hill Sirois – Limitation on Terms of Office for Members of a District School Board to two terms or eight consecutive years. Targets only school boards.
SJR 274 Identical by Baxley
SB 1198 School Board Fiscal Transparency General Bill by Stargel – School Board Fiscal Transparency; Expanding provisions with which charter schools are required to comply; revising requirements for school districts' reports to the Department of Education on certain costs; revising the requirements for data and information that district school boards must post on their respective websites; deleting a requirement that superintendents reduce certain expenditures under specified circumstances, etc.
HB 15 Local Government fiscal transparency General Bill by Burton – Revises Legislative Auditing Committee duties; specifies purpose of local government fiscal transparency requirements; requires local governments to post voting record information on websites; requires property appraisers & local governments to post property tax information & history on websites; requires public notices for public hearings & meetings prior to increases of local government tax levies; specifies noticing & advertising requirements; requires local governments to conduct debt affordability analysis under specified conditions; provides method for local governments to post certain required information.
SB 1350 Related Bill by Hutson Local Government Fiscal Transparency: Expanding the scope of the Legislative Auditing Committee review to include compliance with local government fiscal transparency requirements; providing procedures for the Auditor General and local governments to comply with the local government fiscal transparency requirements; revising reporting requirements for certain local government economic development incentives, etc.
Property Taxes
SJR 344 Diaz 65+ not required to contribute property taxes to public ed; Homestead Tax Exemption: Proposing amendments to the State Constitution to authorize the Legislature, by general law, to provide a homestead tax exemption from school district levies to persons 65 years of age or older who have legal or equitable title to homestead property and who have maintained permanent residence thereon for at least 25 years, and to provide an effective date, etc.  Related bills SB 562 –  Diaz (linked); HB 317 – Rodriguez (compared)
SB 1028: General Bill  by Hutson – School Funding; Requiring that district school boards receive certain funds approved by voter referendum, etc. Note: Districts only get a "proportional share" as it relates to student numbers, not the entire amount raised, which will be paid to "choice" schools if the bill passes.
FEFP/funding
HB 1434 Diaz FL Ed Finance Program requires districts for spend 80% of FEFP $ in the classroom. The bill says teachers' salaries and bonuses, classroom supplies, technology for students and tutoring would all fall into this category. Part of DeSantis recommendations
Teachers
HB 13: Collective Bargaining General Bill by Williamson Prohibits collective bargaining agreements that authorize or require public employer to compensate public employee or third party for employee organization activities.
SPB 7070 TRAIN: Recruitment, Retention, and Recognition Bonuses for Teachers and Principals – Senate Priorities Plans to file legislation to restructure the current Best and Brightest Teacher's Program, eliminating SAT/ACT requirements, and instead focusing on recruitment, retention, and recognition of Florida's top teachers and principals. Specifically, the legislation will create a new recruitment bonus, a one-time award for newly hired teachers who are content expert in mathematics, science, computer science, reading, or civics. Legislation will also create a retention bonus for effective or highly effective teachers at schools that have demonstrated academic improvement, as well as a recognition bonus for highly effective teachers selected by the school principal, based on performance criteria and policies adopted by the district school board. The legislation will also retool the principal bonus around performance of schools demonstrating academic improvement.
SPB 7070 TRAIN: Remove Barriers to the Teacher Certification Process – Senate Priorities  Senate legislation will expand access to teacher certification exams and increase options for school districts to retain quality teachers. Specifically, to address concerns with the cost of certification exams, legislation will require the State Board of Education to establish examination fees for initial and retake registrations, and specify requirements to reduce retake fees. The legislation will also provide flexibility for teachers to meet the requirement to demonstrate mastery of general knowledge.
SB 152 GENERAL BILL by Rader  $50K minimum starting salary for teachers. Instructional Personnel Salaries; Creating the "Florida Teacher Fair Pay Act"; requiring the Legislature to fund the Florida Education Finance Program at a level that ensures that certain schedules guarantee a minimum annual starting salary for instructional personnel; specifying a statewide minimum salary for all instructional personnel for the 2019-2020 fiscal year; requiring the Department of Education to annually calculate an adjusted statewide minimum annual starting salary, etc.
HB 121  Identical by by Polsky (CO-SPONSORS) Eskamani; Hattersley; Smith, C. – $50K min. Starting salary for teachers
School Construction
SPB 7070 TRAIN: Reduce Regulations that Impede School Construction and Facility Improvements –  Senate Priorities  Senate legislation will also provide school districts with flexibility by no longer requiring an educational plant survey recommendation when only local funds, including ad valorem revenue, are used for facility construction. The legislation will also remove cost per student station restrictions when the school district uses only local funds for construction.
Community Schools
SPB 7070 TRAIN: Enhance Support for Community Wrap-Around Services – Senate Priorities The legislation will also stabilize state support of neighborhood public schools with unique community needs.  Leveraging the successful leadership of the Center for Community Schools, legislation will promote the expansion of, and encourage funding for, new Community Schools. Additionally, the legislation will secure Florida's investment in the success of public schools in, or exiting, district-managed turnaround status through sustained support for wrap-around services such as after-school programs, extended school day or school year, counseling, or other support services.
Bright Futures Scholarships
SB 190: General Bill Stargel Education; Makes private voucher school students will be eligible for Bright Futures. Revising the academic terms in which certain students are eligible to receive Bright Futures Scholarships; removing a requirement for a Florida high school graduate to enroll in certain programs within 3 years of graduation from high school in order to receive funds from the Florida Bright Futures Scholarship Program; removing a limitation of 45 semester credit hours or the equivalent for an annual award for the scholarship program; expanding the eligibility for an initial award of a scholarship under the Florida Bright Futures Scholarship Program to include students who earn a high school diploma from a private school, etc.
School Safety
SB 7030 Arming Teachers, Guardian Expansion – Requiring a sheriff to establish a school guardian program under a certain condition; requiring school districts to promote a mobile suspicious activity reporting tool through specified mediums; requiring the Commissioner of Education to review recommendations from the School Hardening and Harm Mitigation Workgroup; revising the duties of the commissioner to include oversight of compliance with the safety and security requirements of the Marjory Stoneman Douglas High School Public Safety Act by specified persons and entities, etc.
NOT in SPB 7070 TRAIN: Improve Safety and Security for Students and Schools – Senate Priorities The Senators also discussed ongoing efforts to implement recommendations of the Marjory Stoneman Douglas High School Public Safety Commission. Last week the Committee on Education passed Senate Bill 7030 to implement the Commission's recommendations in the areas of school safety and security with key improvements to school security measures, enhancements to student safety, and by providing greater flexibility for school districts to transfer funds towards school safety expenditures. Additional legislation will address recommendations related to 911 Emergency Services, and duty to warn in threat situations (SB 7048), while the Senate's education budget will include funding to support and sustain school district investments in school safety and security enhancements. Note: NOT in SPB 7070 TRAIN, likely destined for SB 7030
HB 9197 Altman – Public dollars to fund private safety Provides an appropriation of $4 million annually to Step Up for Students to provide security, including armed personnel for Accredited Nonpublic (Private) Schools –. Requested by Florida Conference of Catholic Bishops
Instructional Materials
HB 855 General Bill by Hill – Instructional Materials/Sexual & "morally offensive" content as perceived by members of the community: Public can object to sexual, moral content and School district must make provisions to address these objections and perhaps censor/remove content according to parameters laid out in the bill. Revises criteria for selecting instructional materials; revises provisions relating to instructional materials & requirements for certain hearings, school districts, district school boards, & district school superintendents. Read analysis here.

SB 1454 by Mayfield – identical
HB 189 Zeike Requires instructional materials be made available to certain dual enrollment students free of charge; provides additional options for students participating in early college program; revises program, contract, notification, & reporting requirements; authorizes charter schools to establish early college programs; provides that certain students & schools are not responsible for specified costs; provides FTE bonuses under certain circumstances.
Religion in public schools/separation of Church/assault on Science
HB 330 General Bill by Baxley – Educational Standards for K-12 Public Schools "Controversial theories and concepts shall be taught in a factual, objective, and balanced manner."  Meaning creationism. Educational Standards for K-12 Public Schools; Revising the Next Generation Sunshine State Standards; providing that such standards are the minimum baseline core content standards for K-12 public schools; revising the requirements for instructional materials that a district school superintendent annually certifies, etc.
HB 195 General Bill by Daniels (CO-SPONSORS) Byrd; Drake; Hill; Overdorf; Ponder; Sabatini
Study of the Bible and Religion: Requires each school district to offer specified courses relating to religion, Hebrew Scriptures, & Bible to certain students as elective courses; provides course requirements. (Does not include/recognize other religions)
SB 770 General Bill Hutson; co-introducer Perry – Reduces CTE graduation track to 1 science course. Alternative High School Graduation Requirements; Providing that, as of a specified school year, certain students are eligible for an alternative pathway to a standard high school diploma through the Career and Technical Education (CTE) pathway option; providing requirements for the CTE pathway option; requiring that each principal or his or her designee, who must be an academic advisor, inform parents and students of the CTE pathway option and establish certain processes relating to the pathway, etc. Read more here.
ELL
SB 1590 Taddeo- Native Language Assessments – Requiring the Commissioner of Education, upon request by a school district, to provide statewide, standardized assessments in any language to be administered to students with limited English proficiency; authorizing such students to choose to be administered the statewide, standardized assessments in their native language or in English; requiring the Department of Education, upon request by a school district, to develop and provide EOC assessments in any language to be administered to students with limited English proficiency, etc. Read more here.
ED Tech/Competency Based Learning
CS/HB 401 GENERAL BILL by PreK-12 Innovation Subcommittee ; DiCeglie ; (CO-INTRODUCERS) Zika Mastery based learning – Provides for alternative award of credits & letter grades under certain circumstances; renames Competency-Based Education Pilot Program as Mastery-Based Education Pilot Program; authorizes public school districts to submit applications for program & amend applications for specified purposes relating to credits & letter grades; provides requirements for such changes; revises statewide articulation agreement. For more information read here.  SB 226 Mastery based learning – Brandes (Similar)
SPB 7020 – POTENTIAL TRAIN Sunset provision General Bill by EducationOGSR/University Direct-support Organization/Research Funding or Research Plans; Amending provisions relating to an exemption from public meeting requirements for specified meetings of a university direct-support organization at which proposals seeking research funding or research plans are discussed; removing the scheduled repeal of the exemption, etc (and SPB 7018) Sunset provision
HB 7001  Identical by Oversight, Transparency & Public Management Subcommittee and Aloupis