Last session, under extreme secrecy, Florida House Speaker Richard Corcoran engineered the passage of HB 7069 which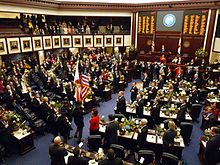 significantly, and perhaps illegally, expanded the scope and influence of private charter school corporations. Thirteen Florida school districts filed a lawsuit to stop the consequences of 7069. The law forces districts to share locally levied tax revenues – with private charter management corporations who can invest this money as they see fit. Local millage dollars are a school districts only way to raise capital funding for buildings and maintenance.
The powerful charter lobby has pushed for years to gain access to these funds in Florida, even though they were receiving up to $100 million in capital outlay from PECO/telecommunications taxes that used to go to districts.
The GOP "trifecta" of power, an impressive charter campaign war chest led by the Betsy DeVos American/Florida Federation for Children and the politicized school reform agenda led by Jeb's foundations is intolerant of any opposition. As a result, the February first annual payment of locally raised district revenue due to charters is an astonishing  $91 million dollars in addition to $50 million in PECO funds.
Remember, private charter school corporations are not required to disclose profit margins or additional ways they might invest this public revenue.  Lawsuit districts are now compelled to file an injunction stopping payment. They know from past experiences that once money is handed over to a charter school corporation, the chances of ever recouping is slim to none, even if 7069 is struck down.
Now more than ever, elections must have consequences. The courts should never be the only tool in the box. Here's a list of legislators who voted yes on 7069 and a list of those who voted no. Check out the 2018 candidates
Who deserves your vote based on their public education votes and/or position on public school "reform?"
7069 Heroes and Zeroes – How your legislator voted
Florida Senate Zeroes: Voted YES on 7069 – Even number districts on the ballot in 2018*
Dennis Baxley* (R), District 12, Baxley.Dennis@flsenate.gov
Aaron Bean* (R), District 4, Bean.Aaron@flsenate.gov
Lisbeth Benacquisto (R), District 27, Benacquisto.Lizbeth@flsenate.gov
Rob Bradley (R), District 5, Bradley.Rob@flsenate.gov
Jeff Brandes* (R), District 24, Brandes.Jeff@flsenate.gov
Doug Broxon (R), District 1, Broxson.Doug@flsenate.gov
Anitere Flores (R), District 39, Flores.Anitere@flsenate.gov
George Gainer* (R), District 2, Gainer.George@flsenate.gov
Bill Galvano (R), District 21, Galvano.Bill@flsenate.gov
Travis Hutson (R), District 7, Hutson.Travis@flsenate.gov
Tom Lee* (R), District 20, Lee.Tom@flsenate.gov
Debbie Mayfield (R), District 17, Mayfield.Debbie@flsenate.gov
Kathleen Passidomo* (R), District 28, Passidomo.Kathleen@flsenate.gov
Keith Perry* (R), District 8, Perry.Keith@flsenate.gov
Wilton Simpson* (R), District 10, Simpson.Wilton@flsenate.gov
Kelli Stargel* (R), District 22, Stargel.Kelli@flsenate.gov
Greg Stuebe (R), District 23, Steube.Greg@flsenate.gov
Senate President Joe Negron (R), District 25, Negron.Joe@flsenate.gov
Dana Young* (R), District 18, Young.Dana@flsenate.gov
Florida House  Zeroes: Voted YES on 7069 – All seats up for election in 2018
Larry Ahern (R), District 66, Larry.Ahern@myfloridahouse.gov
Ben Albritton, (R), District 56,  Ben.Albritton@myfloridahouse.gov
Bryan Avila, (R), District 111, Bryan.Avila@myfloridahouse.gov
Halsey Beshears, (R), District 7, Halsey.Beshears@myfloridahouse.gov
Michael Bileca, (R), District 115, Michael.Bileca@myfloridahouse.gov
Jim Boyd, (R), District 71, Jim.Boyd@myfloridahouse.gov
Jason Brodeur, (R), District 28, Jason.Brodeur@myfloridahouse.gov
Danny Burgess, (R), District 38, Danny.Burgess@myfloridahouse.gov
Colleen Burton, (R), District 40, Colleen.Burton@myfloridahouse.gov
Cord Byrd, (R), District 11, Cord.Byrd@myfloridahouse.gov
Matt Caldwell, (R), District 79,  Matt.Caldwell@myfloridahouse.gov
Neil Combee, (R), District 39, Neil.Combee@myfloridahouse.gov (appointed State USDA director by POTUS 11.17)
Speaker Richard Corcoran, (R), District 37, Richard.Corcoran@myfloridahouse.gov
Bob Cortes, (R), District 30, Bob.Cortes@myfloridahouse.gov
Manny Diaz, (R), District 103, Manny.Diaz@myfloridahouse.gov
Jose Diaz, (R), District 116, Jose.Diaz@myfloridahouse.gov resigned '17, ran for Sen. Seat 40 Annette Taddeo (D) won
Byron Donalds, (R), District 80, Byron.Donalds@myfloridahouse.gov
Brad Drake, (R), District 5, Brad.Drake@myfloridahouse.gov
Dane Eagle, (R), District 77, Dane.Eagle@myfloridahouse.gov
Eric Eisnaugle, (R), District 44, Eric.Eisnaugle@myfloridahouse.gov resigned '17, appointed to 5th Dist. Court of Appeals, Bobby Olszewski (R) won special election
Jay Fant, (R), District 15, Jay.Fant@myfloridahouse.gov
Randy Fine, (R), District 53, Randy.Fine@myfloridahouse.gov
Jason Fischer, (R), District 16, Jason.Fischer@myfloridahouse.gov
Heather Fitzhagen, (R), District 78, Heather.Fitzenhagen@myfloridahouse.gov
Eddy Gonzalez, (R), District 74, Eddy.Gonzalez@myfloridahouse.gov
Tom Goodsen, (R), District 51, Tom.Goodson@myfloridahouse.gov
Erin Grall, (R), District 54, Erin.Grall@myfloridahouse.gov
James Grant, (R), District 64, James.Grant@myfloridahouse.gov
Michael Grant, (R), District 75, Michael.Grant@myfloridahouse.gov
Don Hahnfeldt, (R), District 33, Don.Hahnfeldt@myfloridahouse.gov deceased, December 2017
Roy Hardemon, (D), District 108, Roy.Hardemon@myfloridahouse.gov
Gayle Harrell, (R), District 83, Gayle.Harrell@myfloridahouse.gov
Shawn Harrison, (R), District 63, Shawn.Harrison@myfloridahouse.gov
Blaise Ingoglia, (R), District 35, Blaise.Ingoglia@myfloridahouse.gov
Clay Ingram, (R), District 1, Clay.Ingram@myfloridahouse.gov
Sam Killebrew, (R), District 41, Sam.Killebrew@myfloridahouse.gov
Mike LaRosa, (R), District 42, Mike.LaRosa@myfloridahouse.gov
Chris Latvala, (R), District 67, Chris.Latvala@myfloridahouse.gov
Tom Leek, (R), District 25, Tom.Leek@myfloridahouse.gov
Amber Mariano, (R), District 36, Amber.Mariano@myfloridahouse.gov
Ralph Massullo, (R), District 34, Ralph.Massullo@myfloridahouse.gov
Larry Metz, (R), District 32, Larry.Metz@myfloridahouse.gov
Alexandra Miller, (R), District 47, Alexandra.Miller@myfloridahouse.gov
Mike Miller, (R), District 47, Mike.Miller@myfloridahouse.gov
George Moraitis, (R), District 93. George.Moraitis@myfloridahouse.gov
Jose Oliva, (R), District 110, Jose.Oliva@myfloridahouse.gov
Cary Pigman, (R), District 55, Cary.Pigman@myfloridahouse.gov
Scott Plakon, (R), District 29, Scott.Plakon@myfloridahouse.gov
Rene Plasencia, (R), District 50, Rene.Plasencia@myfloridahouse.gov
Mel Ponder, (R), District 4, Mel.Ponder@myfloridahouse.gov
Elizabeth Porter, (R), District 10, Elizabeth.Porter@myfloridahouse.gov
Jake Raburn, (R), District 57, Jake.Raburn@myfloridahouse.gov
Holly Raschein, (R), District 120, Holly.Raschein@myfloridahouse.gov
Dan Raulerson, (R), District 58, Dan.Raulerson@myfloridahouse.gov Resigned 8.17/Lawrence McClure won special election 12.17
Paul Renner, (R), District 24, Paul.Renner@myfloridahouse.gov
Ray Rodriques, (R), District 76, Ray.Rodrigues@myfloridahouse.gov
Bob Rommel, (R), District 106, Bob.Rommel@myfloridahouse.gov
Rick Roth, (R), District 85, Rick.Roth@myfloridahouse.gov
David Santiago, (R), District 27, David.Santiago@myfloridahouse.gov
Ross Spano, (R), District 59, Ross.Spano@myfloridahouse.gov
Chris Sprowls, (R), District 65, Chris.Sprowls@myfloridahouse.gov
Cyndi Stevenson, (R), District 17, Cyndi.Stevenson@myfloridahouse.gov
Charlie Stone, (R), District 22, Charlie.Stone@myfloridahouse.gov
Jennifer Sullivan, (R), District 31, Jennifer.Sullivan@myfloridahouse.gov
Jackie Toledo, (R), District 60, Jackie.Toledo@myfloridahouse.gov
Carlos Trujillo, (R), District 105, Carlos.Trujillo@myfloridahouse.gov
Jay Trunbull, (R), District 6, Jay.Trumbull@myfloridahouse.gov
Frank White, (R), District 2, Frank.White@myfloridahouse.gov
Jayer Williamson, (R), District 3, Jayer.Williamson@myfloridahouse.gov
Clay Yarborough, (R), District 12, Clay.Yarborough@myfloridahouse.gov
Florida Senate Heroes: Voted NO on 7069 – Even number districts on the ballot in 2018*
Lauren Book*, (D), District 32*,  Book.Lauren@flsenate.gov
Randolph Bracy, (D), District 11,  Bracy.Randolph@flsenate.gov
Oscar Braynon, (D), District 35, Braynon.Oscar@flsenate.gov
Daphne Campbell*, (D), District 38, Campbell.Daphne@flsenate.gov
Jeff Clemons, (D), District 31, Clemons.Jeff@flsenate.gov Resigned due to affair with lobbyist, special election 4.17
Gary Farmer*, (D), District 34, Farmer.Gary@flsenate.gov
Rene Garcia*, (R), District 36, Garcia.Rene@flsenate.gov
Audrey Gibson, (D), District 6,  Gibson.Audrey@flsenate.gov
Denise Grimsely, (R), District 26,  Grimsley.Denise@flsenate.gov
Bill Montford, (D), District 3, Montford.Bill@flsenate.gov
Bobby Powell, (D), District 30,  Powell.Bobby@flsenate.gov
Kevin Rader, (D), District 29,  Rader.Kevin@flsenate.gov
Jose Rodriguez, (D), District 37, Rodriguez.Jose@flsenate.gov
Darryl Rouson, (D), District 19,  Rouson.Darryl@flsenate.gov
David Simmons, (R), District 9, Simmons.David@flsenate.gov
Linda Stewart, (D), District 13, Stewart.Linda@flsenate.gov
Perry Thurston, (D), District 33, Thurston.Perry@flsenate.gov
Victor Torres, (D), District 15, Torres.Victor@flsenate.gov
Florida House Heroes: Voted NO on 7069- All seats up for election in 2018
Joseph Abruzzo, (D), District 81, Joseph.Abruzzo@myfloridahouse.gov
Ramon Alexander, (D), District 8,  Ramon.Alexander@myfloridahouse.gov
Bruce Antone, (D), District 46, Bruce.Antone@myfloridahouse.gov,
Rober Asencio, (D), District 118, Robert.Asencio@myfloridahouse.gov
Loranne Ausley, (D), District 9,  Loranne.Ausley@myfloridahouse.gov
Lori Berman, (D), District 90,  Lori.Berman@myfloridahouse.gov
Kamia Brown, (D), District 45,  Kamia.Brown@myfloridahouse.gov
John Cortes, (D), District 43,  John.Cortes@myfloridahouse.gov
Janet Cruz, (D), District 62, Janet.Cruz@myfloridahouse.gov
Tracie Davis, (D), District 13, Tracie.Davis@myfloridahouse.gov
Bobby DuBose, (D), District 94,  Bobby.DuBose@myfloridahouse.gov
Nicholas Duran, (D), District 112,  Nicholas.Duran@myfloridahouse.gov
Joseph Geller, (D), District 100,  Joseph.Geller@myfloridahouse.gov
Patrick Henry, (D), District 26,  Patrick.Henry@myfloridahouse.gov
Kristin Jacobs, (D), District 96,  Kristin.Jacobs@myfloridahouse.gov
Al Jacquet, (D), District 88, Al.Jacquet@myfloridahouse.gov
Evan Jenne, (D), District 99, Evan.Jenne@myfloridahouse.gov
Shevrin Jones, (D), District 101, Shevrin.Jones@myfloridahouse.gov
Larry Lee, (D), District 84, Larry.Lee@myfloridahouse.gov
Kionne McGhee, (D), District 117,  Kionne.McGhee@myfloridahouse.gov
Amy Mercado, (D), District 48,  Amy.Mercado@myfloridahouse.gov
Jared Moskowitz, (D), District 97,  Jared.Moskowitz@myfloridahouse.gov
Wengay "Newt" Newton, (D), District 70,  Newt.Newton@myfloridahouse.gov
Sharon Pritchett, (D), District 102, Sharon.Pritchett@myfloridahouse.gov
David Richardson, (D), District 113,  David.Richardson@myfloridahouse.gov
Barrington "Barry" Russell, (D), District 95,  Barrington.Russell@myfloridahouse.gov
Sean Shaw, (D), District 61,  Sean.Shaw@myfloridahouse.gov
David Silvers, (D), District 87, David.Silvers@myfloridahouse.gov
Carlos Smith, (D), District 49,  Carlos.Smith@myfloridahouse.gov
Cynthia Stafford, (D), District 109, Cynthia.Stafford@myfloridahouse.gov
Richard Stark, (D), District 104, Richard.Stark@myfloridahouse.gov
Barbara Watson, (D), District 107,  Barbara.Watson@myfloridahouse.gov
Clovis Watson, (D), District 20,  Clovis.Watson@myfloridahouse.gov
Matt Willhite, (D), District 86, Matt.Willhite@myfloridahouse.gov
Patricia "Pat" Williams, (D), District 92 Pat.Williams@myfloridahouse.gov
Florida House Double Zeroes – Did not bother to vote – All seats up for election in 2018:
Thad Altman, (R), District 52, Thad.Altman@myfloridahouse.gov
Daisy Baez, (D), District 114, Daisy.Baez@myfloridahouse.gov Resigned 11.17 due to residency challenge after vote
Kimberly Daniels, (D), District 14, Kimberly.Daniels@myfloridahouse.gov
Ben Diamond, (D), District 68, Ben.Diamond@myfloridahouse.gov
Katie Edwards, (D), District 98,  Katie.Edwards@myfloridahouse.gov
Joe Gruters, (R), District 73, Joe.Gruters@myfloridahouse.gov
Bill Hager, (R), District 89,  Bill.Hager@myfloridahouse.gov
MaryLynn Magar, (R), District 82, MaryLynn.Magar@myfloridahouse.gov
Stan McClain, (R), District 23, Stan.McClain@myfloridahouse.gov
Kathleen Peters, (R), District 69,  Kathleen.Peters@myfloridahouse.gov
Emily Slosberg, (D), District 91,  Emily.Slosberg@myfloridahouse.gov
Florida Senate – Excused from Vote:
Dorothy Hukill, (R), District 14, Hukill.Dorothy@flsenate.gov