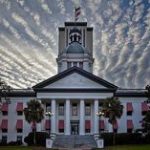 Today, at 9A, HB 7075, the massive "Parent Empowerment Voucher," late-filed last night leaving no time for amendments, will be heard in House Appropriations, scheduled to meet for five hours.  Formerly known as PCB EDC 19-01, HB 7075 is compared to SB 7070, the Senate Train,  and both bills seek to expand what was once a voucher for low-income recipients to an entitlement program for the middle-class ($100K income/family of four) to attend private religious schools. This legislation also seeks to fund the Parent Empowerment Voucher through the Florida Education Finance Program (FEFP), co-mingling money meant for the state's district public schools.
Take Action, call, write, and tweet to the House Appropriations Committee. They'll be there 5 hours. Links below.
Here's what makes HB 7075 so concerning:
Violates Bush v. Holmes decision. Harms students by taking funds intended for Florida public schools and hands them over to private religious schools who are not required to be uniform, efficient, safe, secure or high quality.
Ignores the state uniformity requirement by funding a separate, unequal and unfair voucher system free from any of the accountability measures imposed on public schools by the state. (Article IX, section I)
Violates separation of church and state by making the money meant to fund public schools available to private religious schools.
Private schools are exempt from performing background checks on employees with direct student contact. (Jessica Lundford Act)
Silent on what happens to public education funds if a student transfers mid-year to another private school, out of state or back to public school.
Gives private schools a pass on the high stakes FSA and is vague on measuring student achievement.
Does not require private school teachers to meet minimal qualifications such as a high school diploma.
Private schools have the right to raise tuition fees to "price out" lower income students.
Private schools are not required to prove their appropriate use of public funds.
Taxpayers cannot recoup public dollars from private schools when funds are misused or students return to public school.
Not required to comply with the Marjory Stoneman Douglas Act, but may still be eligible to accept Safe Schools categorical funding.
Roughly $27 million is paid annually to Step Up For Students as a "management fee." Shouldn't the DOE be running this "scholarship" program? Shouldn't the $27 million be invested every year in Florida public schools?
If you don't like the contents of this bill, please write, call & tweet. Tell these "public servants" what you think.
House Appropriations 2019 Session
Democrats – 10
Kionne.McGhee@myfloridahouse.gov  850.717.5117  @KionneMcGhee
Ben.Diamond@myfloridahouse.gov  850.717.5068  @BenDiamondFL
Bobby.DuBose@myfloridahouse.gov  850.717.5094  @RepBobbyDuBose
Nicholas.Duran@myfloridahouse.gov  850.717.5112  @DuranForFlorida
Joseph.Geller@myfloridahouse.gov  850.717.5100  @JoeGellerFL
Kristin.Jacobs@myfloridahouse.gov  850.717.5096 @KristinJacobsFL
Evan.Jenne@myfloridahouse.gov 850.717.5099  @evanjenne
Holly.Raschein@myfloridahouse.com 859.717.5120 @HollyRaschein
Carlos.Smith@myfloridahouse.gov  850.717.5049  @CarlosGSmith
Barbara.Watson@myfloridahouse.gov  850.717.5107 @TeamRepWatson
Republicans – 13
Bryan.Avila@myfloridahouse.gov  850.717.5111 @BryanAvilaFl
Cord.Byrd@myfloridahouse.gov  850.717.5011   @CordByrd
Travis.Cummings@myfloridahouse.gov 850.717.5018 @Travis_Cummings
Dane.Eagle@myfloridahouse.gov  850.717.5077  @DaneEagle
Randy.Fine@myfloridahouse.gov  850.717.5053  @VoteRandyFine
Mike.LaRosa@myfloridahouse.gov  850.717.5042  @larosamike
Clay.Yarborough@myfloridahouse.gov  850.717.5012  N/A
Ralph.Massullo@myfloridahouse.gov  850.717.5034  @RalphMassullo
Cary.Pigman@myfloridahouse.gov  850.717.5055  @CaryPigman
Scott.Plakon@myfloridahouse.gov  850.717.5029  @scottplakon
Rene.Plasencia@myfloridahouse.gov  850.717.5050  @CoachP_CHS
Chris.Sprowls@myfloridahouse.gov  850.717.5065  @ChrisSprowls
Richard.Stark@myfloridahouse.gov 850.717.5104  @RichardStark
Jay.Trumbull@myfloridahouse.gov  850.717.5006  @jaytrumbull
Jayer.Williamson@myfloridahouse.gov  850.717.5003  @JayerWilliamson