Betsy DeVos has a resume that is the antithesis of the mission of public education.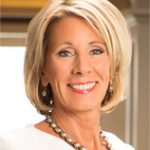 It's time to speak up. Tell members of the U.S. Senate Committee on Health, Education, Labor and Pensions (H.E.L.P.) that Betsy DeVos is a hostile opponent of public schools and unqualified for confirmation as U.S. Secretary of Education. 
Tweet & call! The DeVos confirmation hearing has been moved to Jan. 17th at 5 p.m. giving advocates extra time to oppose this nomination.
Billionaire Betsy DeVos has spent a fortune advancing the politics of public school privatization. Her PAC, the American Federation for Children works to elect candidates who champion unmitigated charter/voucher growth while scorning investment in our public schools.
Check here for a long list of Federal and state politicians who are under sway of DeVos. She serves on Jeb Bush's Foundation board and Florida Step Up for Students voucher king, John Kirtley, serves on hers. DeVos, Broad, Walton, Gates all are major investors and supporters of The 74, Campbell Brown's fake news site devoted to spinning the education "reform" agenda.
This is a numbers game. Staffers keep track of how many of us are against the confirmation of  Betsy DeVos as U.S. Secretary of Education.
Take action now. Call and tweet every member of the H.E.L.P. Committee.
Betsy DeVos has no business being in charge of our nation's 50 million public school children.
Call the Senators of the H.E.L.P. Committee using these numbers from the Network for Public Education. You can also fax letters and for those who can, coordinate regular visits to the local state offices of H.E.L.P. Committee members listed below.
Twitter Handles & Emails for H.E.L.P. Committee. Get busy!
@SenAlexander (Sen. Lamar Alexander, R TN) www.alexander.senate.gov/public/index.cfm?p=Email
@PattyMurray  (Sen. Patty Murray, D WA)   www.murray.senate.gov/public/index.cfm/contactme
@ SenatorEnzi  (Sen. Michael B. Enzi, R WY) www.enzi.senate.gov/public/index.cfm/contact?p=e-mail-sen…
@SenatorBurr   (Sen. Richard Burr, R NC) www.burr.senate.gov/contact/email
@SenSanders  (Sen. Bernie Sanders, D VT)  www.sanders.senate.gov/contact/
@SenIsakson  (Sen. Johnny Isakson, R GA)   www.isakson.senate.gov/public/index.cfm/email-me
@SenBobCasey  (Sen. Bob Casey, D PA)  www.casey.senate.gov/contact/
@RandPaul  (Sen. Rand Paul, R KY)   www.paul.senate.gov/connect/email-rand
@SenFranken  (Sen. Al Franken, D MN)   www.franken.senate.gov/?p=contact
@alfranken
@SenatorCollins  (Sen. Susan Collins, R ME) www.collins.senate.gov/contact
@SenBennetCO  (Sen. Michael Bennett, D CO)   www.bennet.senate.gov/?p=contact
@LisaMurkowski  (Sen. Lisa Murkowski, R AK)  www.murkowski.senate.gov/public/index.cfm/contact
@SenWhitehouse  (Sen. Sheldon Whitehouse, D RI)   www.whitehouse.senate.gov/contact/email-sheldon
@SenatorBaldwin  (Sen. Tammy Baldwin, D WI) www.baldwin.senate.gov/feedback
@SenatorTimScott  (Sen. Tim Scott, R SC)  www.scott.senate.gov/contact/email-me
@ChrisMurphyCT  (Sen. Chris Murphy, D CT)  www.murphy.senate.gov/contact
@SenOrrinHatch  (Sen. Orrin Hatch, R UT)  www.hatch.senate.gov/public/index.cfm/contact?p=Email-Orrin
@SenWarren  (Sen. Elizabeth Warren, D MA)  www.warren.senate.gov/?p=email_senator
@PatRoberts  (Sen. Pat Roberts R KS)  www.roberts.senate.gov/public/?p=EmailPat
@BillCassidy  (Sen. Bill Cassidy R LA)  www.cassidy.senate.gov/contact
@TimKaine  (Sen. Tim Kaine, D VA)  www.kaine.senate.gov/contact
@SenatorHassan   (Sen. Maggie Hassan, D NH)
@SenToddYoung  (Sen. Todd Young, R IN)