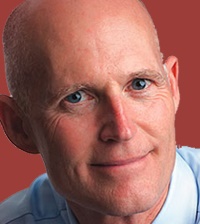 The Florida Legislature left a mighty mess in its wake.                                                                                                                                    
The Senate passed HB 7069, the worst package of public education policies in Florida history, by a single vote.  It was blatantly designed to accelerate the privatization of Florida public education.
This bad Corporate Charter Welfare policy robs districts of Title 1 money and grants charters a range of unfair advantages to aggressively tip the scales against district schools.
Take action now! Urge Governor Scott to Veto 7069 
This summer HB 7069 will trigger the immediate transfer of 115 "D and F" public schools to out of state charters, entrusting them with the education of Florida's most vulnerable students. All in the absence of any proof charter chains will produce turnaround success.
If that's not enough, HB 7069 loads corporate charter chains with $140 million and so much power, its hard believe that there's any love left among legislators for Florida's 2.8 million public school children or their teachers.
House Speaker Corcoran produced HB 7069 along with Rep. Manny Diaz, Rep. Michael Bileca and Jeb's lobbyists. They made sure HB 7069 was cross-pollinated with K12 education policy and tied to a budget that offered some good things such as recess. True to form, Rep. Diaz is shamelessly using recess to justify the damage his bad bill will cause.
Please tell Governor Scott to veto HB 7069
Remarks made by Sen. Gary Farmer about HB 7069 capture the urgent reason for a veto:
"What did [the House] leave us with? A piece of junk they're forcing us to vote on now. It's a monstrosity, we know its bad public policy but here we are in a take-it-or-leave-it situation. Schools of Hope are so utterly offensive and repugnant to teachers, principals and parents…" 
Equally offensive is the stingy $83 billion dollar budget which grossly under-funds public schools while pouring millions into that sketchy corporate charter welfare program called "Schools of Hope."  Even Gov. Scott, who asked for a 3% increase to public education, is unhappy with the miserly .34% found in the budget:
"The Florida Legislature passed a budget that was done largely behind closed doors. It was done without important input from the public and many members of the legislature who were elected by Floridians to serve them. That's unfortunate… it's backroom deals like this that make families think politics is nothing more than a game."
The Governor is right. House leadership made our kids pawns in Florida's miserable backroom school "reform" game.
The 2017 session saw Speaker Corcoran's promise of transparency slam into a brick wall of secrecy. All in the name of growing charters at the expense of district schools.
We must wake up to the overwhelming evidence that "Choice" is just old-school privatization.
If we don't fight this, we will lose our public schools.
Take action today and let Gov. Scott know you expect him to veto 7069.
Highlights – why Governor Scott must veto HB 7069. Read full checklist here:
Redirects and dilutes district Title 1 Funds
Charters get to grade District public schools
Schools of Hope/High Impact Corporate Charter welfare – $140 million
Charter School Land Use Allows charter schools to bypass land use or zoning requirements of local jurisdictions.
Charter access to public facilities at deep discounts, including taking over floors in existing public schools
Charters can hire non-certified teachers
Exempts corporate charter chains from paying for District services
Grants Charters power to usurp Superintendent Authority/Schools of Excellence
Grants Charters power to usurp locally elected school boards
Forces School Districts to give Charters a portion of locally levied capital outlay funding
School Grade Manipulation –  Factors private school student data into a district school's grade, despite the fact that the school provides zero services to the student.
Teachers – substitutes $1,200 bonus only available to some for long overdue increase in pay – $234 million
Recess – Mandates 100 minutes of recess for all K-5 students in District public schools – exempts charter schools granting a carve-out from any expenses
Please donate TODAY. Help us pay for a one-click way contact legislators