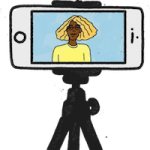 Its time to use our voices to talk about why we choose public schools. We are gathering very short cell phone video testimony, less that 30 seconds, and would love to hear from you. We need to know why you think public education is your Florida choice. In a time when rhetoric often obscures the real human experience in our public schools, its important for us to make our authentic voices heard.
We've made our choice. As parents we have overwhelmingly chosen public schools for Florida's 2.75 million students. Try as they might, those who seek to starve and replace this glorious public asset with an unforgivable transfer of billions in our tax dollars to corporate charter chains and private religious schools, are failing. After 20 years of relentless hostile legislation to create an uneven playing field to benefit "choice" and hamstring public schools, here are the numbers:
District Public schools: 2.75 million students
Charters: 255K students
Vouchers 110K students
Guidelines:
Videos should address 1 question
Message should be 30 seconds or less
Be natural
When filming, have someone else hold the phone, use a tripod if filming by yourself.
Identify yourself up front or have your interview subject say their name
Be aware of ambient noise
At the start, video subject should say they're name and how they are connected to the issue (ex: I'm Mary Smith, Public School mom)
Reference the question your answering ("The thing I love about public school…)
Do not film minor children
Videos filmed by high school students who post them publicly on their own or another FB page or YouTube Channel, can be used by us.
Suggested Questions: 
What do you love about your public school?
How did a teacher make a difference in your life?
How is a high-quality public education good for society?
Should politicians, regardless of party, make improving public education their top priority?
Florida public schools are starving without a major funding increase since 2007. Did you know that the state keeps pouring tax dollars into corporate charters and spends a billion dollars annually on private school vouchers?
Will you make a candidate's position on public education a litmus test for your vote?
Posting Videos:
Post on your FB page or YouTube channel. Notify Kathleen@FundEducationNow.org so we can grab it.
We will post it on the FEN YouTube channel & social media to help spread the word