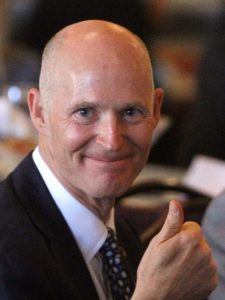 Governor Scott recently signed Florida's 2016 Budget granting public schools a miserly 1% increase. What Scott and legislators called an "historic" level fell chronically short, echoing the  "F" in funding Florida earned in a newly released national study.
Let's recap: The current per pupil funding amount of $7,178 is $74 more than the final 2007/08 calculation of $7,142.79.  That's less than $8 per year for the past nine years. None of this accounts for hundreds of thousands of additional students since 2007. A review of spending on a range of education related items since 2007 reveals a miserly, even stingy funding for ESE, which has gone from over $1 billion in 2007 to $900 million today.  Transportation was $480 million in 2007 and is $430 million today. The list of such examples is proof of Florida's disrespect toward public education.
When Gov. Scott asks for $1 billion in corporate welfare through tax breaks, he is really asking Florida taxpayers to come up with that money. In the meantime, the fundamental values of the citizens of this state such as high-quality public education, health and safety are put on the back burner. Is it any wonder that Florida often earns Fs and ranks last when it comes to investing in its own people?
This latest study, Is School Funding Fair? America's Most Fiscally Disadvantaged School Districts from the Education Law Center/Rutgers, which examines 2008-2013, gave Florida an F and placed it near the bottom public education spending.
Education reporter Denise Amos Smith recently examined the study for The Times Union:
Florida ranked 42nd for education funding per student and 49th for the number of teachers per 100 students in public schools. The state also shows the second steepest decline in education funding, behind Hawaii, between 2008 to 2013, the years the study measured.
The national funding level per student averaged $9,766.80 while Florida's was $7,033, after adjusting for regional differences and district sizes, said Danielle Farrie, Education Law Center's research director.
"We don't know what level of funding is required in Florida, but when you look at what Florida is spending relative to other states, there is a pretty big disparity," she said.
Of course Cheryl Etters, Florida Department of Education spokeswoman hypocritically calls data from previous years "dated." Ironic, since any other time FL DOE proudly trumpets longitudinal data as evidence. The study compares states in a variety of areas including funding fairness, class size, access to early childhood education, teacher/student ratios, teacher pay and poverty.
With all the emphasis placed by Florida politicians on diverting tax dollar to various separate and unequal school "choice" options, the Times Union notes this about private schools in Florida:
The study also examined household incomes for private school families and public school families and found that Florida has one of the biggest income gaps in the nation, despite several state programs such as the Florida Tax Credit Scholarships and the McKay Scholarships that direct tax dollars, directly or indirectly, to private schools.
"If the point of those voucher programs is to expand options for low-income students, there's still a pretty big gap, one of the biggest in the country," Farrie said.
Read entire Times Union article here.
If you like what we  do, please help us 
continue to fund this work.