Lee County has 96 district schools and 24 charters. Three more charters have made application and want to open in 2020. Here's the problem: Lee County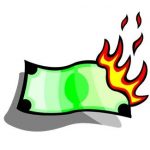 has 24 charters with a capacity for 19,754 students yet only 11,470 seats are filled. That leaves 8,284 empty charter seats across the district. Where's the need for three new charter schools? Why are we spending tax dollars to go into debt over empty charter school seats?
According to the News Press, the Lee County School Board is aware of the problem of low enrollment in their charter schools.
"The school board briefly talked about the proposed charter schools during a recent meeting. Jeff McCullers, the school district's charter school liaison,  mentioned the applicants are trying to open charter schools at a time when the student population at charter schools is down. The current student population at charter schools ranges from a low of 10 students at Athenian Academy Charter School to a high of 1,288 students at Bonita Springs Charter School.
But McCullers said whether there is a need for a charter school is not among the reasons the board can use to deny a request to open a charter school. "We can't say, 'Well, we already have six or seven alternative high schools. How many more can we support?'" McCullers said. "That's a market question. That's up to the applicant to decide if they want to take that risk.""
Doesn't McCullers have this exactly wrong? It's not about how much the "market can support' if taxpayers are funding all these empty seats. WE are the ones shouldering all the risk, not the charter schools who can close up shop and walk away often with financial gain to corporate management. These charter "applicants" are burning our money, not theirs.
Sick of Charters trying to grab our referendum and capital outlay money meant for district schools? Click here and take action today.
Lee County, FL Charter Schools – 24