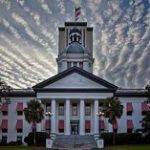 Note: This list will be updated as bills are added.
Teacher Compensation
SB106/Rader Florida Teacher Fair Pay Act – Minimum starting pay for teachers – Instructional Personnel Salaries; Citing this act as the "Florida Teacher Fair Pay Act"; providing legislative intent that the Florida Education Finance Program be funded at a level that ensures a certain minimum annual starting salary for instructional personnel; specifying a statewide minimum salary for all instructional personnel for the 2020-2021 fiscal year; requiring the Department of Education to annually calculate an adjusted statewide minimum annual starting salary, etc.
Workforce Training Grants for Charters
SB130/HB71 Hutson & Santiago – For charters only, excludes Florida public schools. Authorizes Governor to approve workforce training grants to certain charter schools under Florida Job Growth Grant Fund; authorizes certain charter schools to apply for specified grant funds. According to the Florida Politics blog, SB130 "would cede job-growth grant fund money to "certain" charter schools. Much focus has been on the infrastructure created by the fund, solely administered at the discretion of the executive branch. The Hutson legislation, however, focuses on the workforce training piece. The fund would go solely to charters that offer the Career and Technical Education pathway." Back in June, Hutson told Florida Politics he envisioned just this scenario.
SB418/Diaz – Workforce Education: Revising the workforce education programs that school district career centers are authorized to conduct, etc.
Best & Brightest
SB 486 Bradley – Repeals Best & Brightest Teacher Bonus program
80% FEFP spent in the classroom
SB360 Diaz – Requiring school districts that participate in the Florida Education Finance Program to expend 80 percent of funds from the program for classroom spending purposes, etc.
Term Limits School Board
HJR 157 Rep. Sabatini & Willhite school board term limits
School Districts & FL DOE
SB 534 Diaz & Baxley: Requiring the Department of Education to maintain a disqualification list that includes the identities of certain persons; requiring district school boards to investigate certain complaints and report certain results of such investigations to the department; prohibiting an individual who is on the disqualification list from being employed by a charter school or serving as a member of a charter school governing board; requiring certain private schools to adopt policies establishing standards of ethical conduct for certain employees, etc.
School Districts & Taxes
SJR282/Diaz: Homestead Assessment Limitation for Certain Persons. Proposing an amendment to the State Constitution to authorize the Legislature, by general law, to prohibit increases in the assessed value of homestead property, for school district levy purposes, if the legal or equitable title to the property is held by a person who is 65 years of age or older and if he or she has held such title and maintained permanent residence on the property for at least 25 years, and to provide an effective date, etc. NOTE: This is different from the 2019 bill which required those who met the criteria to request an exemption. The current bill automatically grants the exemption if the homeowner meets the criteria.
Holocaust Education in Schools
SB184 Rader: Citing this act as the "Holocaust Education Act of 2020"; requiring charter school instructional personnel to teach specified topics; requiring certain private school instructional personnel to teach specified topics; revising the requirements for instructional content relating to the Holocaust that members of public school instructional staff are required to teach; requiring the Department of Education to coordinate with school districts to appoint Holocaust curriculum coordinators, etc.
HB 91/Polsky: Requires charter school and certain private school instructional personnel to teach specified topics relating to Holocaust education; revises requirements for specified instructional content; provides DOE & school district responsibilities relating to Holocaust instruction.
High School Diploma Modifications
HB217/Valdes – High School Equivalency Diplomas. Provides for award of high school equivalency diploma to students who meet specified criteria relating to high school graduation requirements.
HB 403/Shoaf & Sabatini – High School Graduation Requirements. Revises credit requirements to earn standard high school diploma to include career & technical education rather than practical arts.
ELL
SB78 Taddeo: Native Language Assessment in Public Schools; Requiring the Department of Education to adopt native language versions of the school readiness screener, the school readiness assessment, the Florida Voluntary Prekindergarten Assessment, and the Florida Kindergarten Readiness Screener; requiring that a high school equivalency examination administered in any language other than English be given the same weight as a high school equivalency examination administered in English; revising requirements of the statewide, standardized assessment program to include native language versions of related assessments, etc.
SB 376/HB 143 Lee/Valdes: Exempting certain English language learners from a specified graduation requirement; requiring such English language learners to meet other criteria to earn a standard high school diploma; revising school grade components to include certain English language learners who meet specified criteria, etc.
SB458/Rodriquez: Creating the English Language Learner Advisory Council adjunct to the Department of Education; providing the purpose of the advisory council; specifying the composition of the advisory council, the appointment of members, and the terms they serve, etc.
Vouchers
SB632 Stewart: Aimed bringing public schools, charters and private voucher schools under a single set of rules in several key areas, including academic standards and accountability. Requiring specified teachers to have received, at a minimum, a bachelor's degree; revising the information the Department of Education requires in a specified database relating to private schools; requiring private schools to provide specified students with a certain amount of time for recess; requiring private school students to participate in the statewide assessment program, etc.
Charters
SB 536 Diaz – Alternative Authorizer: Creates an alternate statewide charter school authorizer. (The latter, in the form of a general bill rather than a proposed constitutional amendment, would be sure to provoke a court challenge on constitutional grounds, should it be enacted.) – Establishing the High-Performing Charter School Council; providing the process for approving or denying a charter school application submitted to the council; authorizing charter school sponsors and applicants to provide input to the state board regarding the council's recommendation; providing grounds on which the council may recommend denial of, or the state board may deny, an application submitted by a high-performing charter school or a high-performing charter school system, etc
SB166/Cruz – Requiring a charter school, in order to obtain approval, to demonstrate that it meets certain needs that the local school district does not or is unable to provide to students in that district, etc.
SB526/Diaz – Prohibiting specified individuals and entities from submitting an application to open a charter school for specified periods of time; defining the term "relative" for the purpose of applying the prohibition, etc.
Inspectors General
SB 466/Brandes: Revising the Chief Inspector General's subpoena authority to include issuing and serving subpoenas for all executive branch agencies; providing that agency inspectors general report to the Chief Inspector General; removing an agency head's supervisory authority over the agency inspector general; authorizing the inspector general to present written objections to such removal or transfer to additional officers within a certain timeframe, etc.
Student Wellness Examinations
SB 208 Thurston –Required of students 12 and older until graduation. From the bill, "For purposes of this section, "adolescent well-care 135 examination" means a physical, developmental, behavioral, and 136 psychosocial screening and assessment as recommended in the 137 American Academy of Pediatrics"
Specifying that physical examinations are included in support services for purposes of the student support services team program; exempting a child from the adolescent well-care examination upon a parent's written request stating objections on religious grounds; requiring that district school boards and private school governing authorities require and enforce as a policy that certain children present proof of an adolescent well-care examination each year; requiring district school boards and private school governing authorities to refuse to admit children who fail to present proof of such examination, etc.
Social Emotional Learning (SEL) Pilot – Pasco County
HB2089 Zika died in 2019 and is back for 2020.  This is a Social Emotional Learning pilot that at minimum Pasco County is requesting to run. It clearly targets certain segments of children. The goal is to set Social Emotional Learning standards based on practices espoused by the Casel Corporation who along with AIR (American Institutes of Research who wrote the FSA) will be running the pilot. It is unclear what other districts might be part of this pilot. Member Budget requests from the House shed light as to the content of the proposed pilot. Here's some additional detail from the 2019 version from Sen. Wilton Simpson's Appropriations Request.
School Safety
SB 304 Cruz – School Safety Funding; Specifying distribution requirements for certain safe schools allocation funds for the 2020-2021 fiscal year; requiring each district school superintendent to remit specified unused funds from the 2019-2020 fiscal year to the Department of Education; authorizing the department, upon request, to redistribute such funds to certain school districts for a specified purpose, etc.
 SB 370 Cruz –Safe-school Officers; Requiring district school boards to provide their approval before certain charter schools employ school resource officers and school safety officers; authorizing district school boards to oversee and manage the employment of school resource officers and school safety officers by charter schools within the district; authorizing district school boards to establish best practices for the employment of school resource officers and school safety officers by charter schools within the district, etc.
SB70/HB23 Panic Alarms in Public Schools: Requires each public school building on campus of public elementary, middle, or high school to be equipped with at least one panic alarm; provides panic alarm requirements.
Juvenile Justice
SB578/Bracy: Prohibiting children younger than a certain age from being adjudicated delinquent, arrested, or charged with a crime; authorizing children of at least a specified age, rather than of any age, to be taken into custody under certain circumstances; requiring that children who are taken into custody pursuant to certain circuit court orders be treated in a specified manner and be detained only pursuant to specified findings, etc.
Guns
HB 273 Sabatini & Hill: Removes requirement that license to carry concealed firearm is required in order to carry such firearm; limits areas in which concealed carrying of firearm is prohibited; revises criminal penalties; revises provisions relating to carrying of concealed weapons by nonresidents; provides for issuance of concealed carry licenses for reciprocity purposes; specifies that person not otherwise prohibited by law from possessing firearm may own, possess, & lawfully use firearms & other weapons, ammunition, & supplies for lawful purposes. https://www.fox13news.com/news/no-conceal-carry-permit-needed-if-florida-bill-passes?
HB 183 Ponder: Prohibited Places for Weapons and Firearms: Authorizes elected member of specified governing body who holds license to carry concealed weapons or firearms to carry concealed weapon or firearm to meeting of governing body of which he or she is member.
Pre-emption
HB 305  Preemption of Conditions of Employment: Preempts to state the right to regulate conditions of employment by an employer; voids certain ordinances, regulations, or policies that are preempted by act. https://www.flsenate.gov/Session/Bill/2020/305
Political Over-reach in school districts
Duval County Public Schools: Transition to elected superintendent from appointed – Duval controversy continues amid assertions that the effort to force the change from an appointed superintendent to an elected one is directed at the current superintendent Diana Greene."I feel this bill is sexist, racist and vindictive attack on the extremely qualified, first female African-American superintendent in Duval County who dared to command a study to fix the condition of our schools," state Senator Audrey Gibson said. J-1, a controversial local bill, by State Rep. Jason Fischer, R-Mandarin, was passed by the Duval Delegation 6-2. State Reps. Cord Byrd, Kimberly Daniels, Clay Yarborough, Wyman Duggan, Fischer and State Sen. Aaron Bean voted yes. State Sen. Audrey Gibson and State Rep. Tracie Davis voted no. Fischer's state bill, yet to be filed, will propose holding a referendum next November to allow voters decide whether the superintendent should become an elected position, as opposed to an appointed one selected by the Duval County School Board. If approved by voters, an election would be held in November 2022 to choose a superintendent. Fischer introduced the idea as the School Board fought with City Hall over the district's right to put a half-cent sales tax for school maintenance on the ballot, which politically connected charter investors opposed. To retaliate, Fischer originally proposed his idea was to allow the mayor to appoint School Board members which earned criticism from school board members and Jacksonville City Council members. Read more here 
Private Schools receiving public voucher dollars
SB56/HB45 Rouson & Eskamani: From the bill: "may not deny enrollment to a student based on the student's race, ethnicity, national origin, gender, disability, religion, sexual orientation, or gender identity" – Revises private school eligibility requirements for state school choice scholarship program
Religion/Christianity taught in public school
HB341/Daniels & SB746/Baxley Study of the Bible and Religion.  Excluding all other religions, requires courses providing an "objective study of the Bible, including, but not limited to, a course on the Hebrew Scriptures and Old Testament of the Bible; a course on the New Testament of the Bible; and a course on the Hebrew Scriptures, the Old Testament of the Bible, and the New Testament of the Bible." Requires such courses be included in Course Code Directory. Read more here and here. Note: Unfunded mandate. Charters appear to be exempt.