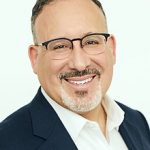 Please let U.S. Secretary of Education Miguel Cardona know that merely "inviting" states to ask for 2021 testing waivers will not protect students in trifecta, single party rule states. Most of these states, including Florida, will never apply for any relief for its 2.75 million public school children.
Take action today. Ask U.S. Secretary Miguel Cardona to urge states to apply for the 2021 waiver to provide students and families relief from returning to schools amid ongoing COVID-19 fears and the punitive measures that will result from testing.
Forcing kids back into the emotional stress of face-to-face school testing to collect data is unacceptable and runs counter to parental "choice." Florida public school students have already endured "robust progress monitoring" from districts who have reported the results to Florida Commissioner of Education Richard Corcoran throughout the year, spending upwards of $20 million in CARES funding to create this infrastructure for collecting, aggregating, and analyzing student data.
Use your voice today. Demand that Florida Commissioner of Education Richard Corcoran apply for the spring 2021 Federal waiver to eliminate the ESSA "95% must test," requirement and the student data collection and associated punitive measures.
All Florida has to do is request the waiver to relieve us all the requirement that 95% of all public-school students participate in testing required by the Federal Every Student Succeeds Act (ESSA).
Here's the pertinent waiver language, read entire waiver template here.
I am writing to request a waiver, pursuant to section 8401 of the Elementary and Secondary Education Act of 1965 (ESEA), of the following requirements as a result of the ongoing challenges related to the novel Coronavirus Disease 2019 (COVID-19):
 Accountability and school identification requirements in ESEA sections 1111(c)(4) and 1111(d)(2)(C)-(D): the requirements that a State measure progress toward long-term goals and measurements of interim progress; meaningfully differentiate, on an annual basis, all public schools, including by adjusting the Academic Achievement indicator based on a participation rate below 95 percent; and identify schools for comprehensive, targeted, and additional targeted support and improvement based on data from the 2020- 2021 school year.
Reasons to urge Secretary Miguel Cardona, U.S. House Speaker Nancy Pelosi, House Education Committee Chair Rep. Bobby Scott, Majority Leader Sen. Chuck Schumer, United States Senate Health, Labor and Education Committee ,  Senate HELP Committee Chair Patty Murray, U.S. D.O.E. Secretary Miguel Cardona to urge states, especially Florida, to participate and request a waiver, relieving students and schools from the mental stress of unfair and inequitable 2021 spring testing during the COVID-19 pandemic:
Because of the ongoing presence of COVID-19 in communities across Florida, the delayed effort to vaccinate teachers and staff and the lack of resources released to Florida schools for strict adherence to CDC safety guidelines, we urge the Federal Government to generously accept waivers for the annual testing requirement and the mandate for "95 % tested" required in ESSA.
As other states apply for Federal 2021 testing waivers, parents living in red states actively throwing out local mask mandates remain opposed to returning their students for face-to-face testing, especially after being assured by districts and the state of Florida that remote or virtual learning was "their choice" and that "parents know best."
It is inequitable and unrealistic to expect parents, who the state encouraged to exercise their "choice," to keep their students out of face-to-face instruction over health risks to return these same students to a face-to-face school building to take the FSA.
FSA results gathered in spring 2021, during COVID-19, will not provide an accurate picture of student progress, teacher effectiveness and school performance and as such should not be used to retain students, rank teachers or grade schools.
Florida Districts have already been required to collect "robust progress monitoring" data, spending upwards of $20 million in CARES funding to create this infrastructure for collecting, aggregating, and analyzing student data.
During the 2021 Florida Legislature's Pandemic Committee meeting it was expressed that the "robust progress monitoring" data collected on Florida K-12 students using embedded programs such as a-Ready are already providing teachers and districts plenty of information about student progress. This data has been shared regularly with the state FL DOE, documenting progress, and holding districts accountable – making the argument to administer spring FSA moot.
Florida Standard Assessments (FSA) test prep will rob as much as two months of valuable teaching time needed to help students mitigate the negative impacts brought on by COVID-19.
How can the spring 2021 FSA be valid or reliable given that methods and content for teaching school this year are in no way "standardized?" During the 2020-21 school year Florida students used a variety of alternative learning environments such as synchronous distance learning, virtual school, and homeschooling and returning to optional face to face in January 2021.
States that have requested a waiver for Spring 2021 ESSA testing requirements listed here.
Your letters will go to the following:
Recipients
U.S. House Speaker Nancy Pelosi
House Education Committee Chair Rep. Bobby Scott
Majority Leader Sen. Chuck Schumer
United States Senate Health, Labor and Education Committee
Senate HELP Committee Chair Patty Murray
U.S. D.O.E. Secretary Miguel Cardona
Florida Board of Education
Chair, Andy Tuck – Andy.Tuck@fldoe.org
Vice Chair, Marva Johnson – Marva.Johnson@fldoe.org
Monesia Brown – Monesia.Brown@fldoe.org
Ben Gibson – Ben.Gibson@fldoe.org
Tom Grady – Tom.Grady@fldoe.org
Ryan Petty – Ryan.Petty@fldoe.org
Joe York – Joe.York@fldoe.org
Florida Commissioner of Education Richard Corcoran Commissioner@fldoe.org
Sen. Joe Gruters
Sen. Shev Jones
Sen. Perry Thurston
Rep. Robin Bartleman
Rep. Chris Latvala
Rep. Patricia Williams