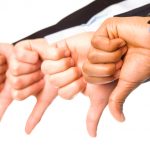 Filled with at least twelve unrelated and confusing concepts. SB 62 is up tomorrow in the Senate Education Appropriations Subcommittee for its second of three stops.
Take action now to stop SB 62, Senator Kelli Stargel's train bill
Parts of this vast bill, such as state-funded dual enrollment for home-schoolers, are positive. These are "sweeteners" used to distract us from how SB 62 forces districts to share their critical ½ penny capital outlay revenue with private charter schools. Remember, Florida already gives charters $100 – $180 million in PECO/Telecom tax dollars every year for capital outlay. Districts get virtually none of that.
Don't we as voters deserve more than another confusing bill filled with questionable initiatives that would never pass on their own?
Please use your voice today. With one click, write to every member of the Senate Education Appropriations Subcommittee.
Tell these Senators that you oppose multi-subject train bills which lack transparency like SB 62. Tell them that our school districts cannot afford to share their sole source of categorical revenue for building and repairing our schools.
SB 62 means handing over hundreds of millions of dollars to charters every year, leaving district schools unable to make repairs or finish projects.
Important points about SB 62:
Charters can use the ½ penny money to improve buildings the public will never own
The state places zero restrictions on charters, who are free to spend this tax money as they see fit
Districts must get approval from the state for every single repair, new build or renovation.
Charters have received upwards of $180 million per year for a decade from state PECO/Telecom taxes, while districts receive nothing.
Charter schools have a high rate of closure, making it almost impossible for the public to recoup squandered funds
Voters are not being served by legislators who pass multi-subject train bills. If a concept cannot pass in a single subject bill, it should not become a law.