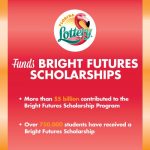 Bright Futures is still in grave danger. Sen. Baxley's SB 86 revision removes the controversial "required degree list" but leaves a devious path to greatly reduce program funding.  It passed two committees and is headed for its last stop in Senate Appropriations before hitting the Senate floor.
Take action now! Don't let SB 86 rob Bright Futures students of the scholarship they earned!
Though tens of thousands of Bright Futures students mounted a powerful protest against SB 86, forcing  Senator Dennis Baxley to delete his effort to limit which degrees recipients could pursue, the bill still remains a serious threat to the program.
Instead of withdrawing SB 86 altogether, Sen. Baxley's revision deletes the required degree language, keeping the following from the original bill:
Removes the Bright Future Scholarship guarantee of 75% to 100% payment of tuition and fees, funded by the Florida Lottery and Educational Enhancement Trust Fund.
Strips Funding for Bright Futures from the Florida Lottery making the program an appropriation in the State Budget/General Appropriations Act.
Transfers all Bright Futures funding decisions to Florida legislators who are only obligated to "assist" in payment of educational expenses, not a guarantee of payment.
Returns Bright Futures funding to pre-2018 conditions: Tied to the politics of a fluctuating state budget, leaving students unable to depend on consistent funding from year to year.
Disproportionately harms disadvantaged Bright Futures students who cannot attend college on a scholarship whose funding may or may not exist, depending on political whims.
Clearly SB 86 seeks to re-distribute and destabilize Bright Futures and Benaquisto funding. Roughly 120,000 of Florida's best students benefited last year from the Bright Futures Scholarships they earned at a total cost of $618,607,164. The Benaquisto Scholarship benefited approximately 1,400 students last year at a cost of $21,550,104. The total transfer of funds into the FL Lottery and Educational Enhancement Trust Fund last year was nearly $2 billion dollars, which generously covers funding for both programs with $1.4B to spare.
Gov. DeSantis and FL Senators: NO on SB86 – Keep your promise to Bright Futures scholars – guaranteed funding for fees and tuition! 
Your letter will be sent individually to the following:
Governor Ron DeSantis
Senator Dennis Baxley, SB 86 sponsor
Senate Appropriations Committee
Senator Kelli Stargel (R)
Senator Aaron Bean (R)
Senator Ben Albritton (R)
Senator Lauren Book (D)
Senator Randolph Bracy (D)
Senator Jeff Brandes (R)
Senator Doug Broxson (R)
Senator Manny Diaz, Jr. (R)
Senator Gary M. Farmer, Jr. (D)
Senator George B. Gainer (R)
Senator Audrey Gibson (D)
Senator Ed Hooper (R)
Senator Travis Hutson (R)
Senator Debbie Mayfield (R)
Senator Kathleen Passidomo (R)
Senator Keith Perry (R)
Senator Jason W. B. Pizzo (D)
Senator Bobby Powell (D)
Senator Darryl Ervin Rouson (D)
Senator Linda Stewart (D)
https://secure.everyaction.com/hJNtU3nz4UGTa09dymOHpA2